The Honeywell LXE MX7 Tecton Industrial Mobile Computer combines performance with user-friendly features. Today's warehouse companies need a mobile terminal that is capable of meeting a multitude of demands. The MX7 is the device that meets those needs. Ergonomically designed with a variety of accessories, an IP65 rating, and an ultra fast processing and operating system, this unit is up to any challenge.
Honeywell LXE MX7 Overview
Do you need the Honeywell LXE MX7 Tecton or other equipment? Barcode Resourcing is here to provide additional equipment to support your peak seasons, help complete a yearly inventory, or help finish a unique project that requires barcoding equipment, purchasing this technology refurbished may be the most cost-effective solution.
The Honeywell / LXE MX7 Handheld Computer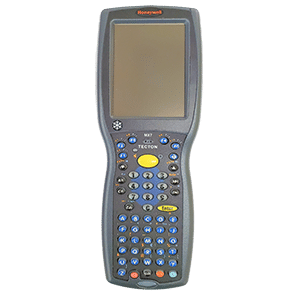 Our most popular configuration: MX7L1B1B1B0US4D
Long Range Lorax Laser Scanner with Heated Lens (SE1524ER)
55 Key Numeric Keypad
802.11A/B/G 2.4 GHz Wireless Radio
3.5′ Color LCD Display w/ Heated Touchscreen
Marvell XScale 806 MHz Processor
256MB RAM, 256MB Flash
Windows CE 6.0