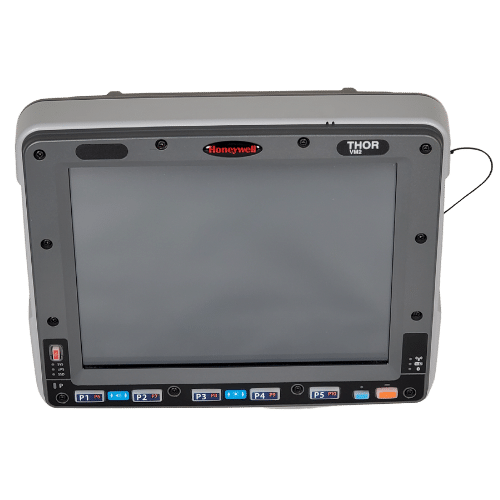 The Honeywell Thor VM2 Vehicle Mounted Terminal is the tenth generation developed by Honeywell. This vehicle mounted terminal (VMT) provides the ultimate in flexibility and efficiency. Just like the Thor VM1 and VM3 computers, the VM2 utilizes both the Smart Dock and contains a field-replaceable front panel.
With the Smart Dock, users have the ability to undock the unit from one forklift and redock it on another vehicle in seconds. In conjunction with the field-replaceable front panel, the VM2 is designed with cost-savings and efficiency in mind. The field-replaceable front panel means that the keyboard and touchscreen, the two most wear and tear prone components, are user-replaceable.
Whether you need additional equipment to support your peak seasons, are needing to complete a yearly inventory, or have a unique project that requires barcoding equipment, purchasing this technology refurbished may be the most cost-effective solution.
Honeywell Thor VM2 Vehicle Mount Terminal
Honeywell Thor VM2 Vehicle Mounted Terminal
FreeFloat On-Screen Keyboard

WLAN 802.11 a/b/g/n (2.5 GHz+5MHz) Radio
Bluetooth 2.0
Intel Atom Z530-1.6GHz
WES 7
(1) USB 2.0 Host / (1) USB Client Port
(2) RS-232 Comm. Ports
(1) CAN Bus Port
RoHS Compliant